KTHMC is dedicated to inspiring our students to reach their full potential through an education that emphasizes technique and professionalism. We will accomplish this in a passionate, disciplined environment that fosters excellence. Your growth as an individual and a culinary professional is the measure of our success. Whether your long-term goal is to become a hospitality entrepreneur, join a corporate management team or any road in between, the knowledge you gain at KTHMC will stay with you for the rest of your career.
CAREER IN THE HOSPITALITY FIELD
The travel, hotel and tourism industry is booming and offers you a career path that takes you to Australia, Middle East,China or on the Cruise ships of the world. Hospitality and Tourism Management jobs can be found in hotels, resorts, spas, cruise ships, conference and event centers and tourist attractions.There is no better way to do it than to apply your skills and knowledge in the real world and at the completion of your course, you will get a 100% Free Job Placement Abroad . With an Australian Training Certificate at KTHMC and hands-on experience, you'll already have a greater chance to start a Career at the international level.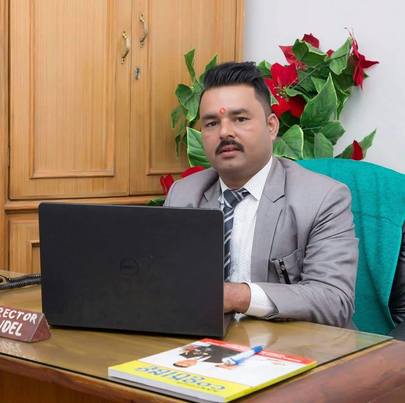 Mr. Bijaya Poudel
Founder & Chairman
Since our founding in 2010, Nepal's and Pokhara's importance and influence in the Hospitality world has progressively grown. So has KTHMC. Today, we are widely recognized as one of Nepal's leading destinations for anyone who wants to explore their passion for all facets of the Hospitality and Culinary education, from Hotel Management, cooking and baking to wine studies and restaurant and hospitality management. As a school and an institution, we are vibrant and focused and still driven by ideals.
Our students are diverse, have unique talents and individual quests. Our role at KTHMC is to help our students develop and find their wonderful career. The foundations of KTHMC are our career programs in Hotel Management, Culinary Arts, Pastry & Baking Arts and Hospitality Management. Whether our students' goals are to become Chefs, entrepreneurs, artisan bread bakers or hotel general managers, our programs provide the right foundation. Our programs are skill oriented, intensive, student-centric and are up to international standards.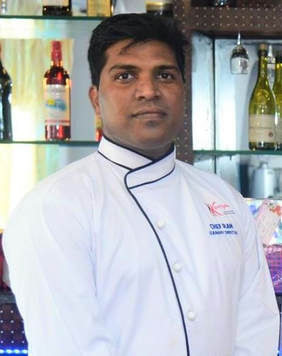 Chef Ram.K
Chairman,
Managing Director & Culinary Director
With an extraordinary International exposure of more than 13 years, I worked for some of the finest hotels in the world and the Cruise Ship-Miami -USA. Travelling around the world I had acquired very good knowledge in both theory and practical skills which I have been imparting for students in the last 9 years in Nepal and helped producing more than 1400 finest chefs that are required all around the world in 5 to 4 star establishments and fine dining restaurants. Most of the Executive Chefs from Middle East 5 star hotels appreciate the way we train the students at our college.
It is very hard to characterize a school or a business in a few words. But at its core, KTHMC is all about its students. Whether they are with us for a day, a week or a year, students tell us that our school is an exciting, joyful place where they are inspired to learn and succeed.

Being part of their success is our passion.

We make our students very strong in their basics so that they can build their career with the knowledge they acquire at KTHMC and from their work experience. More than 300 of the Culinary Students among 1400 of them whom I have trained over the last 8 years are already on work visa in Australia, Canada, New York, Denmark, etc.
Special Features of KTHMC
Gives importance for standard education
Reasonable fees and highest commitment
Industrial visits and Industrial style training
Complete Australian professional programs
Individual student attention
Personality development classes
Special English training
Better technical skills
Increase of confidence
Better guidance for jobs
Recognition anywhere in the world
Job Placement Assistance in Gulf countries, Maldives, India etc
Opportunity to study further in Australia, USA, New Zealand etc as per the eligibility
Chance to work as a Chef in Australia, Canada after 3 to 4 years of work experience
CSAI
 
Culinary Solutions Australia International was formed in 2008 to meet the growing demand for quality training and assessment materials from overseas hospitality schools and now has partner schools in the Philippines, South Korea, Vietnam, Nepal, India, Malaysia and China.
These hospitality schools currently use CSAI training and assessment systems to teach European cookery, Asian cookery, Patisserie and Hospitality Management.
From their extensive travels and discussions with overseas hospitality representatives it became clear that many students in overseas countries would benefit from being trained using the Australian Hospitality Training system but could never afford to travel to Australia for such training.
To solve this problem, CSAI decided to make the same teaching and training resources available to overseas hospitality students using a unique CSAI International training and assessment model. This means overseas students can study the same material and subjects as they would in Australia but in their own local environment and for a local price. After completing a CSAI Hospitality course they can then go on to find good jobs in the hospitality industry either in their own country or overseas.
Kantipur Tourism and Hotel Management college in Pokhara has excellent infrastructure and wonderful instructors and so KTHMC is the latest affiliated college to CSAI from Nepal.
Highfield Qualifications is the UK and Middle East's leading supplier of compliance, work-based learning and apprenticeship qualifications, training materials and E-learning. It is the market leader in Food Safety, HACCP Training in Food production and catering. Since the establishment in 1982, Highfield Qualifications has enjoyed exceptional growth and is now one of the top 10 awarding organizations in the UK.
Highfield Qualifications was awarded as a winner of the 2016 Queen's Awards for Enterprise. This is the most prestigious business award in the UK for outstanding achievement by UK businesses in the categories of innovation, international trade, sustainable development and promoting opportunity through social mobility.
Our students get trained in HACCP and Food Safety and they give the assessment and get their HIGHFIELD Level 2 Food Safety/HACCP Certificates during their course and so they can do their job better while they are in the industry. They can produce and serve healthy and hygienic food to the guest which will be free of contamination and food poisoning.
KTHMC is recognized and affiliated with such international organization in the country.
We are affiliated to CTEVT- Nepal since 2014. It is the Council for Technical and Vocation Training(CTEVT) constituted in 1989(2045 BS) is a
National Autonomous apex body of Technical and Vocational Education and Training(TEVT) Sector committed for the production of technical and skillful human resources required to the nation. It mainly involves in policy formulation, quality control, preparation of competency based
curriculum,developing skill standards of various occupations and testing the skills of the people,conduct various research studies and training needs assessment etc.
CTEVT courses and certificates are recognized Nationally and Internationally for Job Placements and Paid Internship.